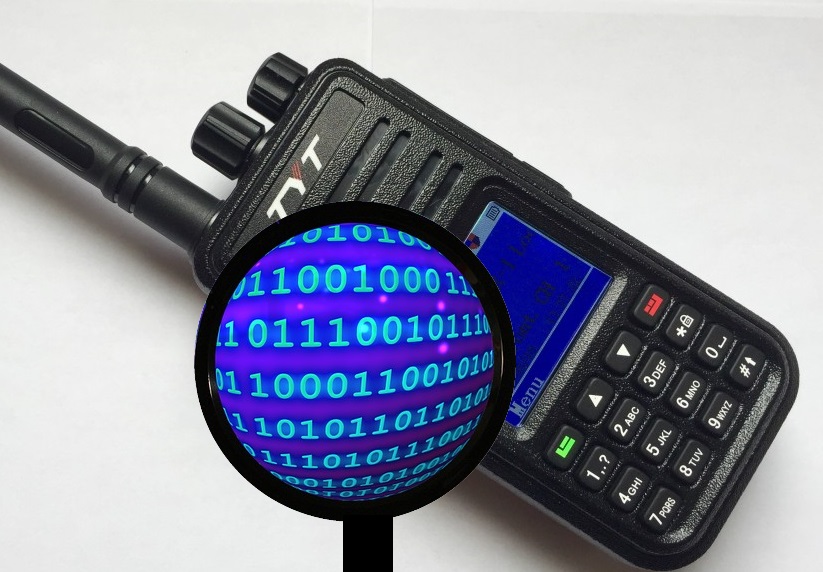 This page documents the format of the Tytera DM380/Retevis RT-3 codeplug binary file. This is not an official format definition but it has been determined by changing settings with the "CPS RT3" program version V1.30.0.
This specification is used by the rdt2csv conversion utility to export/import codeplugs in the CSV format.
General rules
The codeplug, with extension ".rdt", is a binary file of a fixed size of 262709 bytes. All information inside is allocated at fixed positions.
Records
Data inside the codeplug is divided in records. Every record has its own format. Some records are available in single instance (for example, the record describing the "General Settings"), while other records are repeated (for example, records describing the "Channel Information" have one record for each channel).
Multiple records are always allocated in sequence within the codeplug file. Records are always octet aligned.
For each set of records, the description below will give
the offset in octets where the first record starts
the length, in octets, of each record
the number of records available in the file
Fields
The records are divided in fields. Each field represent an edit box, a check box or other field in the editor card. Fields can be as small as one bit or as long as 16 octets.
The field table will give the offset in bits of the field within the record and the length in bits of the field. So, bit #0 will be the MSB of the first octet of the record; bit #7 will be the LSB of the first octet, while bit #8 will be the MSB of the second octet and so on.
Fields are encoded according an encoding type among those specified below.
Encode: BCD
The BCD (Binary Coded Decimal) format divides a decimal number in digits and codes each digit in a group of 4 bits. In this case encoding is little-endian.
For example, value 12345678 is encoded as 0x78 0x56 0x34 0x12.
Encode: RevBCD
Same as BCD, but encoded big-endian.
For example, value 12345678 is encoded as 0x12 0x34 0x56 0x78.
Encode: BCDT
This is a BCD format with exception used only in CTCSS/DCS fields specification.
Tones are of three types: CTCSS (like 127.9) DCS-N (like D155N) and DCS-I (like D155I).
They are coded as two-octets little-endian BCD but with an exception: the two most significant bits of the second octet are to be extracted and used as follow: 00=CTCSS, 10=DCS-N, 11=DCS-I.
Once removed, the remaining BCD value is the number.
Example:
CTCSS 77.0  = x70 x07 
CTCSS 254.1 = x41 x25  
DCS   D023N = x23 x80  
DCS   D023I = x23 xC0

Encode: Binary
This is normal binary little-endian encoding. If size is less or equal to 8 bits, the field is always contained in a single octet. If the size is greater the 8 bits, then size is always a exact multiple of 8 bits and the field will be octet aligned.
Encode: Unicode
Unicode encoding is a sequence of little-endian 16-bit values.
Although it can host any 16-bit Unicode value, only values <= than 255 (U+00FF) are shown correctly.
The Unicode strings are always allocated to their maximum size; if shorter than their maximum size, unused characters are zeroed.
If the maximum size is used, no zero terminator is available.
Encode: Ascii
Ascii encoding is made of simple one-octet long characters.
The Ascii strings are always allocated to their maximum size; if shorter than their maximum size, unused characters are zeroed.
If the maximum size is used, no zero terminator is available.
Empty records
Tables supporting multiple records (for example Channel Information, Scan List, Zone Information, etc) have always all records allocated. So, if Channel Information supports a maximum of 1000 entries, in the codeplug file there will always be 1000 entries.
The unused entries are marked with one or more octets that are set to a given value when the record is not used.
When setting the a record to empty, the safest strategy is to set it to its "initial condition". The "initial condition" is the configuraton used by the "CPS RT3" editor program when creates a new "default1.rdt" empty codeplug.
Some types of records are initialized to zero, while other are initialized to 0xFF. In every case, the Unicode and Ascii strings are to be initialized to zero.
The "Default zero value" in the table below specifies this detail.
Deletion markers
When a record is deleted, the CPS RT3 editor does not clear its contents to its initial state but simply sets one or bytes to a prefixed value. Therefore, the decoder must check these octets only to determine whether a record is active or deleted.
The bits to be checked are described in the "deletion markers" table of every record descriptor below.
Records specifications
The tables below describe all the available records and their internal format.